NEW FORMULA K EVO 32 - STR PT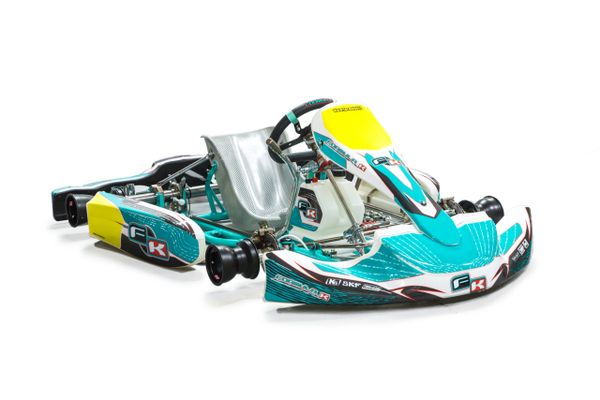 NEW FORMULA K EVO 32 - STR PT
The Formula K EVO 32 (USA) racing kart chassis is the top line shifter chassis in the FK product line.
The Formula K EVO 32 STR PT chassis with Front Braking System and 1050mm wheelbase can be used for any Shifter related motor package. However, it is also well suited for use with other motors such as the IAME X30 TAG, ROTAX or KT100. The FK EVO 32 STR chassis is a tried-and-true chassis, having won races around the world including the 2012 World Championship. The frame design is a 30mm tubular frame with a 32mm front hoop, a 32mm center crossbar and a 32mm rear crossbar, making it comfortable to drive and great for drivers looking for lateral control on Sprint tracks and Enduro courses.
Technical Specifications
Ø30×2 – Ø32×3 mm tubular frame made of high – strength 25CrMo4 steel
FP7 – Stilo bodyworks with CIK-FIA homologated supports
Hydraulic brake system, brake pump with oil recovery tank, floating iron cast brake disc:
   RBS: ventilated Ø195 mm rear brake disc

 Top line steering system with Ø330 mm "Le Mans" steering wheel
8.5 L of tank capacity
 Magnesium Ø5 inches rims, 130 mm (front) – 212 mm (rear) with beadlock screws
"Racing" seat, size 1 | 1+ | 2 | 3 | 4
Ø50 x 2 x 1030 mm, S | MS | M | MH | H | EH | X axles
Ø25 mm spidles with Ø10 mm kingpins and camber – caster regulation plates
 Dimensions
Wheelbase
STR: 1050mm

Overall Length
1940 mm
Overall Width
1315 mm
Overall Height
545 mm
Weight
STR: 54 kg
      
*2 FREE AXLES WITH PURCHASE!!! Chassis comes with a Medium axle and you will receive one MR and one MH tuning axle.