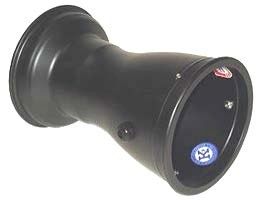 Douglas Magnesium Wheel
Douglas Magnesium Wheel - (Set of 2)
The Douglas (Standard) wheel is the universal neutral rim for all of karting. This rim is usually common to most brands of kart chassis and is a great rim for assessing the tunability of a kart chassis.
The LV (Low Volume) simply put, is designed to reduce the gas volume that inflates the tire, which in turn allows lower initial tire pressure, promoting lower final tire temperatures. The LV series wheels have thinner walls of a larger diameter, improving heat transfer rates and giving more cooling surface area. This extra cooling capacity helps stabilize and regulate temperature and pressure rise, for better and longer tire performance.

Features:

Stainless steel bead screws installed at no extra charge.

High quality valve stems. Exceeds all CIK (worldwide design standards).

New magnesium alloy with higher impact strengths

Designed for easier tire mounting.

Metric bolt pattern
FRONT SIZE - 132mm fits a 4.6 Front Tire
REAR SIZE - 212mm fits a 7.1 Rear Tire
*Due to COVID-19 this item may have a longer lead time for delivery.