NEW PRAGA & FORMULA K - MONSTER EVO 950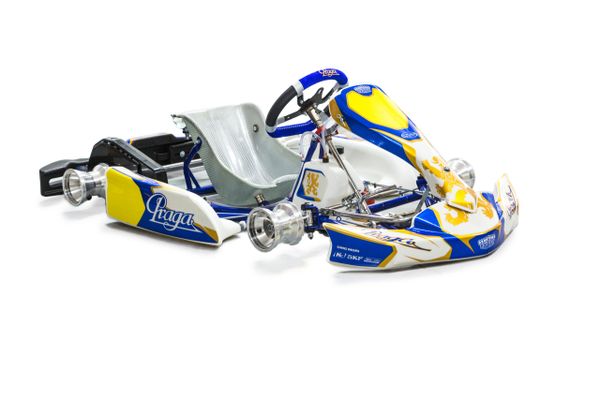 NEW PRAGA & FORMULA K - MONSTER EVO 950
The top chassis for the Mini-Swift, ROTAX Mini and Micro MAX categories.
The high performance chassis for young drivers. Recommended for drivers aged 8-12 years.
The right chassis that makes the difference, and we have different solutions for different diver sizes and motor applications. Derived from the floating and ventilated brakes used on the full-size KZ models, the braking system of the PRAGA & FK MONSTER EVO 950 has been designed to ensure the maximum efficiency and safety.
Technical Specifications
Ø28 mm tubular frame made of high-strenght 25CrMo4 steel
MK14 bodyworks with CIK-FIA homologated supports
R3 hydraulic brake system, pump with oil recovery tank, Ø149 mm steel rear disc
Top line steering system with Ø330 mm "Le Mans" steering wheel
3.5 L of tank capacity
Aluminium alloy Ø5 inches rims, 115 mm (front) – 140 mm (rear)
"Racing mini" seat, size 1 | 2
Ø25 x 960 mm – Ø30 x 5 x 960 mm, S | M | H axles
Ø17 mm spidles with Ø8 mm kingpins
Wheelbase 950 mm (USA)
Weight of 36 Kg